This is the third and final blog in a three-part series about the E-Rate Program, a US Federal initiative administered by the USAC (Universal Service Administrative Company) for the FCC (Federal Communications Commission), that provides schools and libraries across the United States with access to affordable broadband and telecommunication services and solutions via approved, E-Rate funding mechanisms.
Telecommunications Act of 1996 and E-Rate
E-Rate funding was established by the US Federal government under the Telecommunications Act of 1996 to provide affordable telecommunications services, internet access, and internal connections to schools and public libraries, with a special emphasis on rural areas and low-income communities. E-Rate is one of the initiatives that is funded by the Universal Service Fund (USF) and the funding is on a five-year cycle, with each funding year starting on July 1st and ending on June 30th of the following year.
Before this blog, we discussed the commonly seen mistakes in the E-Rate process with tips on how to avoid them as well as grants to supplement your E-Rate budget.
In this blog, we will be exploring top technologies that are E-Rate fundable to make sure you are getting the most out of your E-Rate budget to support your advanced telecommunications services, connectivity, and network performance and management needs.
E-Rate Technology - Artificial Intelligence (AI) and Machine Learning (ML)
Lean K-12 IT staff in eligible schools, libraries, and other public institutions, have a lot on their plate. In addition to tasks such as strategic planning and technical support, it is estimated that IT staff spend 30% - 50% of their time on routine tasks such as troubleshooting and network management. In order to optimize their time, IT professionals need the ability to be ahead of problems in order to reduce downtime, automate routine tasks to save time, and be given data and insights to make informed decisions. Essentially, they need technology that allows them to do more with less.
Fortunately, major strides have been made toward leveraging AI and ML to do just that. K-12 schools have been adopting AI and ML enabled tools such as RUCKUS One to provide efficient network management, and purchasing them under existing categories of service.
More about RUCKUS One
RUCKUS One™ is an AI-managed platform that allows IT to simplify network management. Using the power of AI, this tool allows IT staff to manage their network more efficiently by predicting and identifying issues before they become problems, which in turn reduces downtime and improves network performance. RUCKUS One can also automate tasks to free up time for strategic initiatives as well as analyze data that gives insight into device performance, network usage, and more. Another feature of RUCKUS One? It is E-Rate fundable under Category 2 eligible services!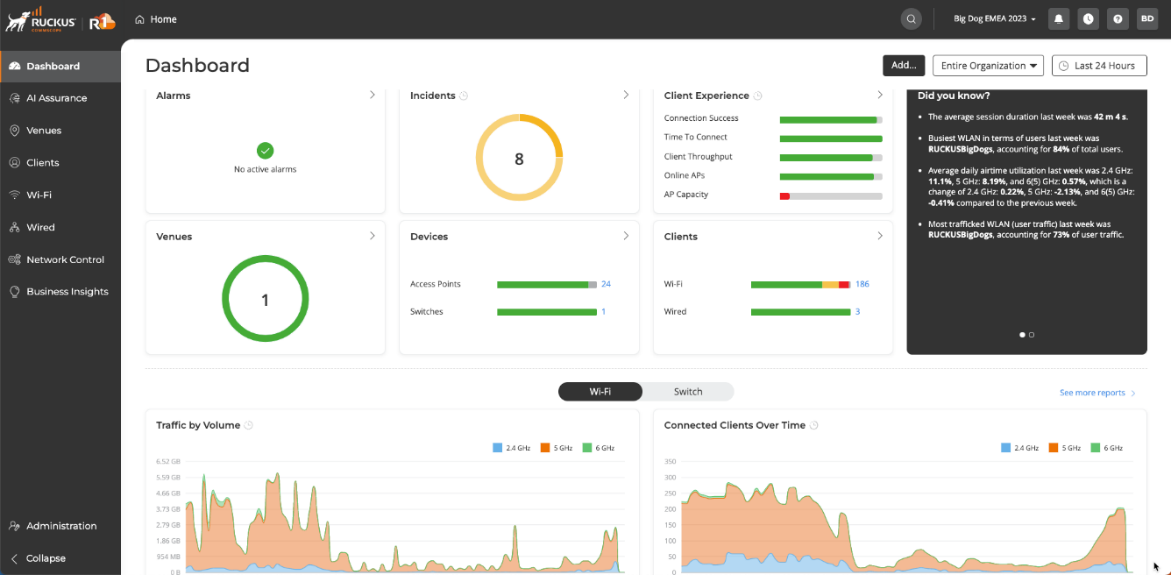 But don't just take our word for it. Watch this video to see how our solutions helped 14,000 students across 26 campuses at Bonneville Joint School District #93. The information services provided within RUCKUS One made a huge difference.
To learn more about RUCKUS One and request a free trial, explore the cloud-managed solutions page or check out our RUCKUS One data sheet.
What about Internet of Things (IoT) and Eligibility?
School security is top of mind for many, meaning IT staff are being asked to find ways to enhance the safety of students and staff. Because of this K-12 is beginning to adopt IoT to implement security protocol such as access control, surveillance systems, and asset tracking.
IoT technologies allows schools to do all of this and more. IoT-enabled smart locks can control who enters and exits school buildings and can be locked down quickly in case of emergency. Also, IoT-enabled cameras and sensors monitor your campus in real time, providing data and alerts to security personnel that can prevent potential security incidents. IoT also allows asset tracking to prevent theft of equipment such as laptops and projectors.
In addition to the benefits mentioned above, the IoT technologies can also create smart classrooms for more engaging lessons, track attendance through the use of smart cards or biometric devices, enable personalized and effective learning, and manage energy usage.
IoT has the potential to transform your school's network and because of E-Rate funding, it can help your school at a low cost. You can read more about RUCKUS's IoT solution, RUCKUS® IoT Suite, here.
Wi-Fi 7 under USAC E-Rate
School networks face challenges each day that include supporting video streaming and interactive learning platforms, securely onboarding devices, and accounting for the increasing number of those devices with a Bring-Your-Own-Device (BYOD) policy. Because of this, schools need a network with fast speeds, low latency, and increased capacity. Both primary and secondary schools see increased usage of devices, remote learning, web-assisted or web-driven learning and testing, and ever-increasing demands for connectivity, throughput, and network capacity.
Fortunately, there is a solution – Wi-Fi 7.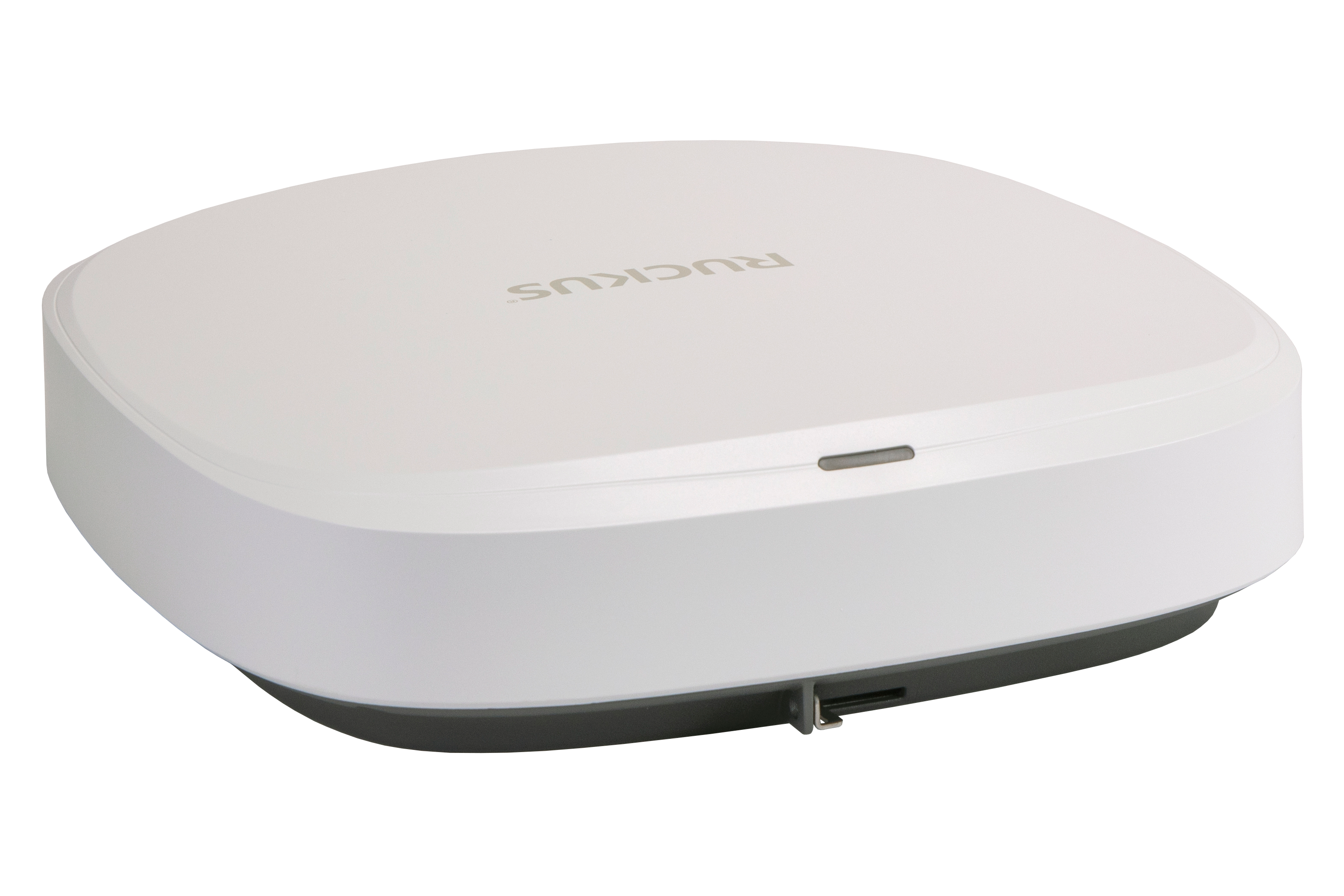 RUCKUS and Wi-Fi 7
RUCKUS is the first to market with an enterprise grade Wi-Fi 7 access point. One of the benefits of Wi-Fi 7 is lower latency, meaning that teachers and students can use applications like video conferences, online assessments, and digital educational games without delay. As classrooms are becoming more and more digitized, this is a crucial aspect of today's classrooms networks to ensure students are up to speed.
Wi-Fi 7 also offers higher capacity so that school networks can support more devices. As students, teachers and staff bring laptops, tablets, phones and more into school and are connecting them onto the school network, having a network that can support an increasing number of devices is key for a seamless network experience. Wi-Fi 7 also supports RUCKUS Cloudpath® Enrollment System, facilitating secure onboarding of devices.
Other benefits of Wi-Fi 7 include four times the throughput of Wi-Fi 6, multiple management options, wireless link aggregation with multi-link operation (MLO), improved connection reliability, and it is E-Rate fundable.
More information on Wi-Fi 7 can be found on our Wi-Fi 7 solutions page or the R770 data sheet.
E-Rate Funding and the E-Rate Program Summary
Because of the discounted services and solutions that the E-Rate program provides, there are many technologies available to districts that may not be accessible without E-Rate funds. While there is an extensive list of technologies that are E-Rate fundable, which you can find using our E-Rate Eligibility Product Search, the three highlighted above are the top emerging technologies I have seen speaking with multiple school districts this E-Rate season.
If you have any additional questions about the E-Rate program, such as the steps in the application process, RUCKUS is here to help. Below are additional resources or you can reach out to our E-Rate helpdesk here.
Where can you find additional helpful information?
E-Rate for digital learning page for product eligibility, E-Rate updates, ordering guides, case studies, and documents
Education Network Solutions Product Guide to cover specific, E-Rate RUCKUS product solutions
USAC website for application filing windows, bidding process overview, categories of service (including basic maintenance of internal connections), competitive bidding process, FCC forms, EPC administration, and help for groups bidding as part of a consortium, or other non-traditional entities such as Non-Instructional Facilities (NIFs).

© 2023 CommScope, Inc. All rights reserved. CommScope and the CommScope logo are registered trademarks of CommScope and/or its affiliates in the U.S. and other countries. For additional trademark information see https://www.commscope.com/trademarks. Wi-Fi 7 is a trademark of the Wi-Fi Alliance. All product names, trademarks and registered trademarks are property of their respective owners.