RUCKUS One and RUCKUS NaaS are addressing this head-on
The debate between cellular and Wi-Fi® is a hot one. Over the past few years, I've heard that private 4G/5G will universally displace Wi-Fi and that Wi-Fi will significantly reduce the need for cellular and everything in between. As is the case with polarizing debates, the truth lies somewhere in the middle. In fact, 90% of enterprises want unified Wi-Fi, private 4G/5G cellular and wired – with a much more cohesive management experience, according to a new survey ZK Research conducted in collaboration with CommScope.
The survey of 402 enterprises found that more than 85% have separate deployments or plans for Wi-Fi, private 4G/5G and wired networks, with 86% having already deployed or planning to deploy Wi-Fi 6/6E/7 and 92% having deployed or planning to deploy private cellular.
Why both Wi-Fi and private 4G/5G? While Wi-Fi and private 4G/5G are both wireless technologies, they are highly complementary. Wi-Fi has reached near ubiquity and is excellent for general-purpose connectivity. The downside of Wi-Fi is that it operates on shared spectrum and is subject to interference and congestion. Private 4G/5G utilizes dedicated spectrum, such as CBRS, in the US, making it more reliable and predictable but the costs can be quite high. Ideally, customers would use both Wi-Fi for mobile phones, laptops and non-mission critical connectivity and 4G/5G when guaranteed connectivity is a must. OT devices, autonomous vehicles, and healthcare equipment are examples.
The big issue: siloed management, security, QoS -- and enterprises are paying the price
The challenge operations teams face is in the management of these separate wired, Wi-Fi and private 4G/5G networks. There are very few vendors that offer private cellular and Wi-Fi, which means most organizations are running between two and five management consoles. The survey quantified this and found that 73% of organizations currently use two or more.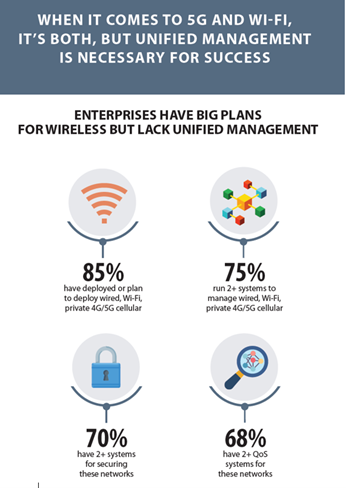 The more shocking data point is that 91% of respondents state that separate management tools waste 17% of their time and 19% of their money. Given IT pros' limited time and budget, solving this can have a big payoff.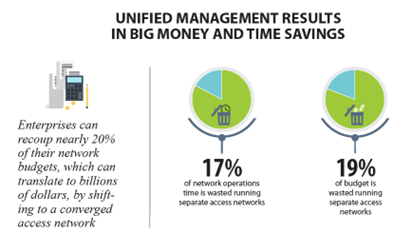 Nine in 10 enterprises want a converged multi-access wireless network
Almost 9 in 10 enterprises (88%) we surveyed said they think a converged multi-access network would benefit their organizations. Enterprises across public venues, manufacturing, and transportation were nearly unanimous in saying such an approach would be superior to running separate networks. This speaks volumes to the demand.
What do they expect to get? Improved security (46%), performance (44%) and agility (36%) are the top benefits they expect from a converged access network.
In addition, they're also seeking reduced costs and greater efficiency from existing staff. We see the ability to quickly recoup nearly 20% or more of their budget and time. For many enterprises, that could translate to millions of dollars toward the bottom line by shifting to a converged multi-access network.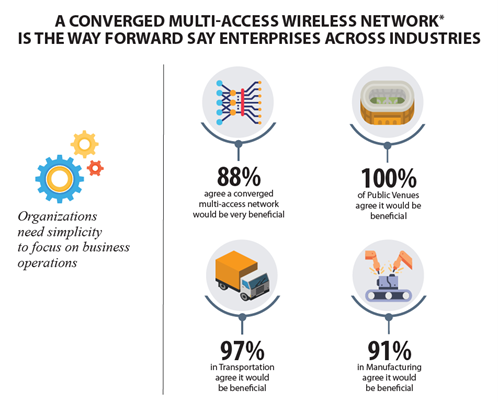 RUCKUS One and NaaS are well aligned with the future of converged multi-access wireless
From what I'm seeing, CommScope is taking this challenge head-on with its RUCKUS One™ platform, offered as RUCKUS® Network as a Service (NaaS) or a managed cloud solution. RUCKUS One enables organizations to manage all their access networks – wired switching, Wi-Fi, and private cellular from a single place. Instead of configuring policies or security parameters multiple times for each access network, it can be done once and pushed out to each network. The bigger payoff comes as AI becomes a more significant part of network operations. In data sciences, an expression states, "Good data leads to good insights", which is true. What's also a fact is that silos of data leads to partial insights. Running separate management tools keeps data in silos, limiting AI's impact.
A unified management console becomes increasingly important as companies look to converge IT and OT networks. The coming together of these two historically separate environments is something that has been predicted for years and appears to be finally happening. Many of the OT devices have no onboard security capabilities. Enabling security within RUCKUS One provides consistent security everywhere.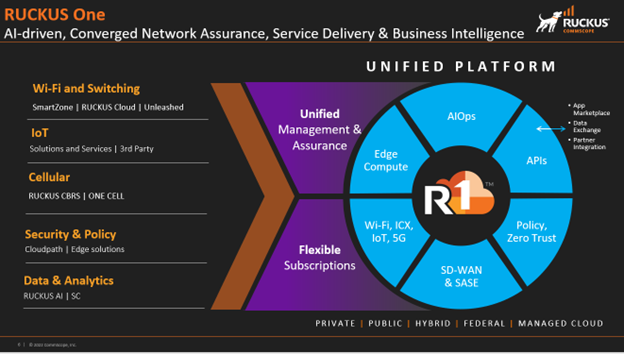 Network as a Service and managed cloud are the key consumption models.
To help customers deploy the solution quickly, CommScope's RUCKUS NaaS offering combines infrastructure as a service with a managed service. Seventy-nine percent of the enterprises we surveyed said they'd rely on NaaS for their converged multi-access network. The managed service component can free up staff time, enabling them to focus on strategic initiatives. Shifting infrastructure to an as-a-service model brings budget efficiency as the payments are consistent and affordable as opposed to having to make a massive payment at deployment time. Add this up and the ability to consume networking as a service leads to outcome-based SLAs enabling organizations to better align their IT and business goals.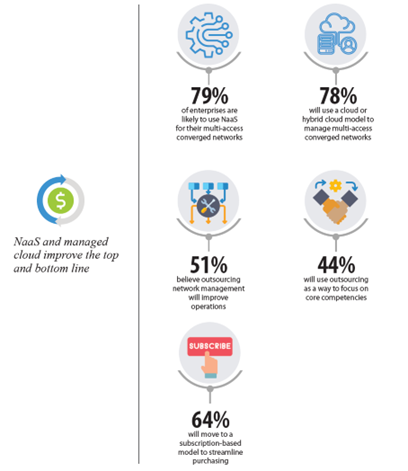 The role of the CIO is ever-changing and, today, more difficult than ever. Technology leaders must balance innovation, customer and employee experience, and cost savings. Evolving disparate access networks to a converged, multi-access network with unified management can achieve all those objectives today but also create the agility to address any challenges that come up in the future.
Learn more about how CommScope's RUCKUS One, RUCKUS NaaS and intelligent cellular solutions are delivering simplicity, affordably and superior customer experiences to enterprises across vertical industries.
CommScope, RUCKUS, RUCKUS One and the RUCKUS One logo are trademarks or registered trademarks of CommScope and/or its affiliates in the U.S. and other countries. For additional trademark information see https://www.commscope.com/trademarks. Wi-Fi is a trademark of the Wi-Fi Alliance. All product names, trademarks and registered trademarks are property of their respective owners.